Build your career with us
Why us?
Being the #9 largest cabinet company means we build a lot of cabinets for homes in all 50 states. We view being #9 as the sweet spot: big enough for some serious firepower and stability yet small enough where we answer to no one but ourselves and have a family-like feel. Our employees don't have to worry about large holding companies or public-trading stock prices driving decisions because we are 100% employee-owned.
3+ Million

Cabinets Shipped
Competitive Pay
In 2021, a full-time production employee made over $36,000. Wages vary based on experience, position and hours worked. Our base pay starts at $17-$20/hour.
Bonus Opportunities
All eligible employees qualify for our quarterly bonus program. Payout depends on the company's performance paired with your individual performance.
work-life balance
Full-time employees accrue a minimum of 13 paid vacation/PTO days per year. Accrual of PTO hours starts on your first day. We also schedule 8.5 paid holidays off per year.
day shifts only
Our standard schedule is Monday-Thursday 7am to 5pm and Fridays 7am to 11am. Overtime is after 11am on Fridays until production is complete or occasional Saturdays.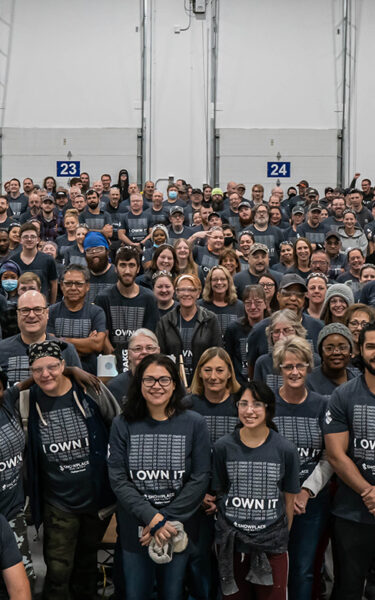 Promotions
There is always room to grow in your career at Showplace. Whether you want to climb the ranks in the manufacturing plant or have a professional opportunity in the office, we are constantly promoting from within.
one big family
We started out as a small, close-knit group. Now we're up to three manufacturing facilities at two locations, operated by 650 people. Still, many people will tell you we care and act like one big family.
training
If you've never built cabinets before, don't worry. Your first week will be spent in training. As long as you're comfortable using your hands we can get you setup to succeed.
tuition reimbursement
We offer scholarships to employees' children, or if you're interested in going back to school, we have a tuition reimbursement program to help you grow.
Types of Jobs
We have a variety of open positions available at any time, and the choices can change. Here is a general view of what we may currently have available.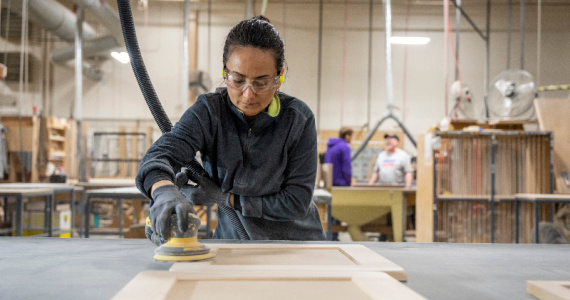 General Production
General production jobs can include our sanding, finish, and trim teams. This is a great place to begin a rewarding career in the cabinet industry.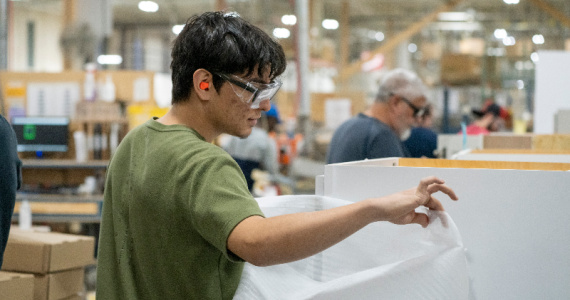 Jobs for Teens
We offer part-time jobs for anyone age 16 and older. If you are a student or just wanting to work a few hours per day, we can accommodate you!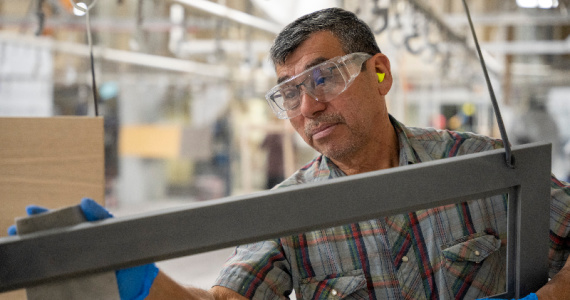 Entry Level
Entry level jobs are perfect for those with no cabinet or manufacturing experience. We train you to succeed!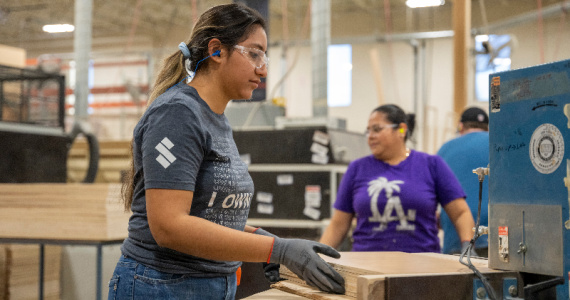 More
Occasionally, we look outside of our company for individuals with more specific experience in operating special machinery, customer service, or cabinet design. Those opportunities will be listed separately on our career listings page.
Facilities
Our main campus in Harrisburg, South Dakota, and our door plant in Beresford both feature unique on-site benefits for all employees.
Onsite Cafeteria
Enjoy fresh meals made by our on-staff chef at our Harrisburg campus. We serve a full breakfast and lunch every day.
Onsite Gym
Keep your wellness goals on track with our onsite fitness center and personal trainer. Attend group classes, schedule one-on-one private training or do your own thing.
Free Onsite Medical
You and your immediate family can visit our free, onsite Physician's Assistant for things like a fever, sore throat or other regular family practice needs.
Free counseling
One day a week a mental health professional comes onsite to assist employees with life challenges. You can schedule appointments during work hours for a free session.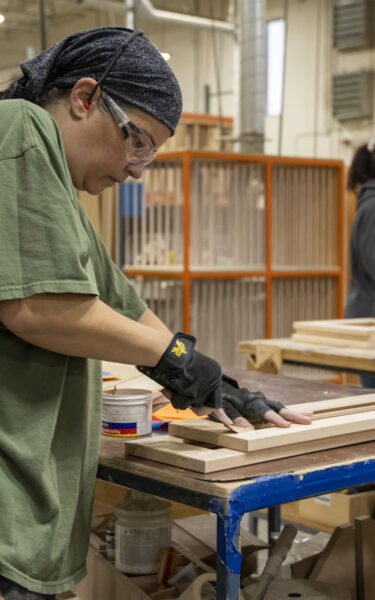 HEALTH INSURANCE
We provide healthcare plan options through Blue Cross Blue Shield. Whether you're a single, couple or family you can choose a plan that's right for your budget and health needs.
Dental & Vision
Keep your teeth and eyes in tip-top shape through our dental and vision plans. All plans are affordable for any size family.
Pet Insurance
Have a furry friend at home? Maybe more than one? Showplace partners with Metlife to provide discounted pet insurance policies.
Life Insurance
After an initial waiting period, Showplace pays for a life insurance policy for you. You can also choose from many other supplemental insurance options.
FREE COMPANY STOCK
After a minimum waiting period, you will become vested in our Employee Stock Ownership Plan (ESOP), at no cost to you. Showplace is 100% employee-owned, which means you will have another retirement fund waiting for you when the time comes.
401K Plan
Save for future retirement through our 401K plan. Showplace will match up to 4% of your contribution after the initial waiting period.
*#9 Largest Cabinet Manufacturer based on 2021 YTD KCMA Data.