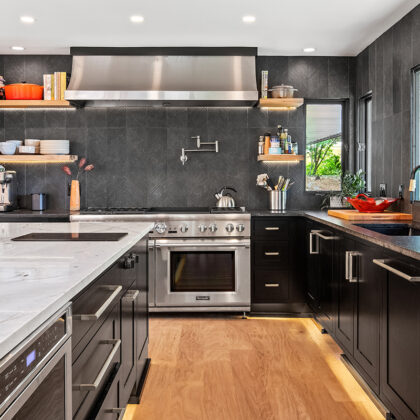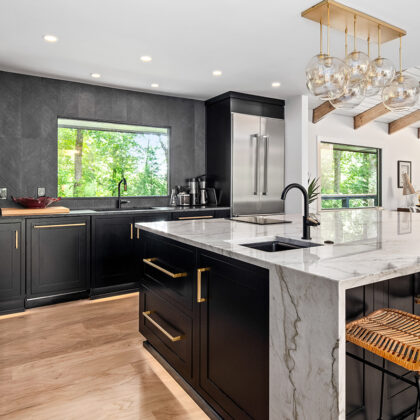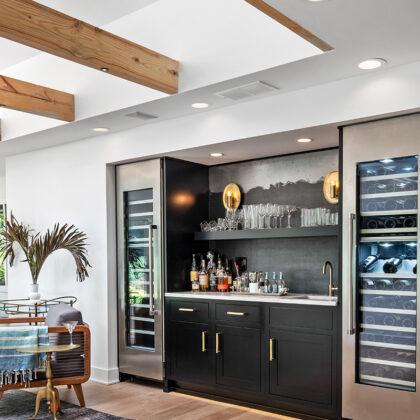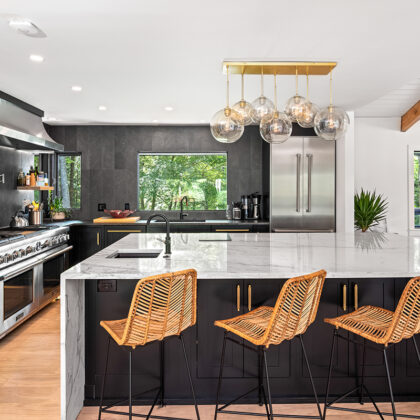 Previous
Bold & Gold
After purchasing this modern style ranch home built in the 1980's the homeowners wanted to open up the floor plan and modernize the look and feel. Creating a functional space that met the cooking needs of a large active family while supporting entertaining large parties with ease was very important. With good bones and many appealing architectural details already in place, the home just needed a make over with good design to become the next better version of itself.
One of the first hurdles in developing this design was creating a contemporary Scandinavian feel without upper wall cabinets, so special attention needed to be placed on storage needs. This was addressed through the use of multiple sets of wide, large drawer banks, tray divider cabinets, and storage on the back side of the island's counter top overhang. This created the necessary space to ensure every pot and pan had a home, and in the correct place for its intended purpose.
Entertainment needs were addressed by creating a separate space dedicated to wine columns, a coffee station, and associated glassware.
The homeowners came into the project with a desire for black painted shaker style cabinetry with large gold hardware; this was an appealing challenge for the design team at Haggard Home Cabinetry & Design, who loved the unique opportunity to "color outside of the lines" and stretch their creative talents. A combination of sky lights and large windows flood the space with natural light and enhance the dark painted choice in cabinetry. In the end, the homeowners brought their tasteful vision of a great design to this project which became beautiful reality in a space they will love for years to come.
Completed by Haggard Home Cabinetry & Design in Norcross, GA, this beautiful project was a 2019 Showplace Cabinetry National Award Winner – Best Kitchen Design for a New Showplace Dealer.
Completed by Haggard Home Cabinetry & Design in Norcross, GA.
Kitchen
Projects You Might Like
Looking for more inspiration? Browse more projects and homes Showplace has been a part of.