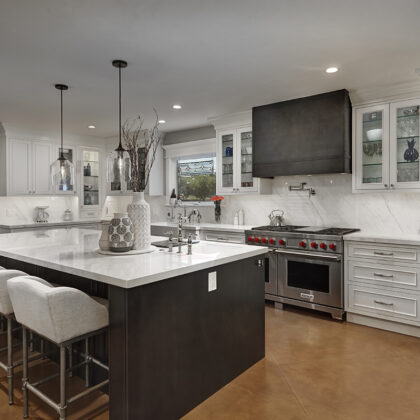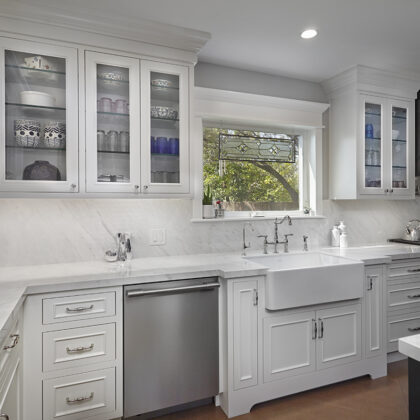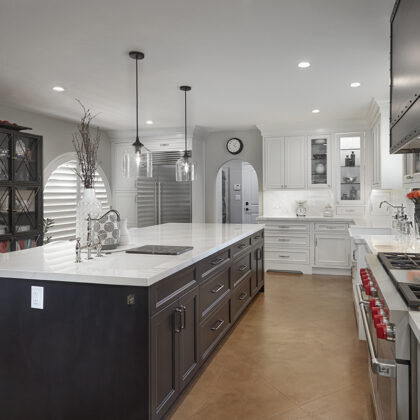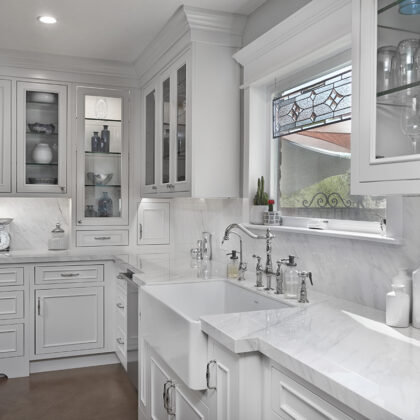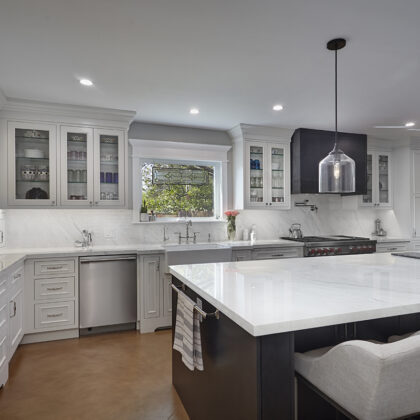 Previous
Classy and Comfortable
The challenge of this project was optimizing an underutilized and disjointed large kitchen space. The homeowners, seasoned in previous kitchen remodels, had clear objectives that aligned seamlessly with the design team's vision. Every aspect of the kitchen received a makeover, except for the windows, retaining their natural charm.
The transformation was remarkable – the kitchen welcomed new, high-end pro-style appliances, strategically placed for maximum functionality. A stunning porcelain countertop, doubling as a backsplash, added a touch of sophistication.
The pièce de résistance is the generously sized island, adorned with ShowplaceEVO frameless cabinets featuring the Edgewater door style. The island is elegantly stained in Midnight finish, contrasting beautifully with the White Dove painted finish of the perimeter inset cabinets. For the hood, a patinaed zinc appearance was meticulously crafted by a local metal fabricator.
Lighting received a modern update, with "City Glass" pendants illuminating the island and LED lights enhancing both under-cabinet and interior spaces. Completing the look are the farmhouse sink and top knobs hardware, creating a blend of class and comfort ideal for everyday use and special gatherings.
Two standout features are the charming and functional corner cabinet configuration and the ingeniously repurposed toe kick space for an HVAC air return, showcasing a commitment to functional design.
Designed by Southwest Kitchen & Bath in Tucson, AZ.
Projects You Might Like
Looking for more inspiration? Browse more projects and homes Showplace has been a part of.