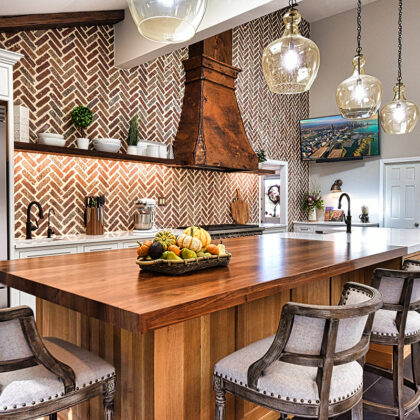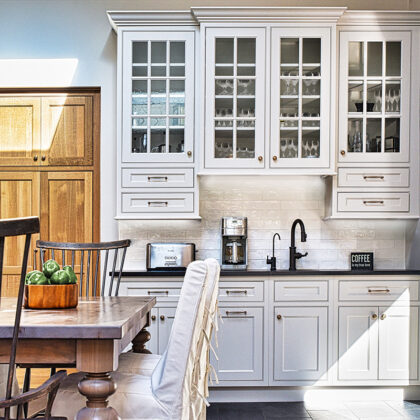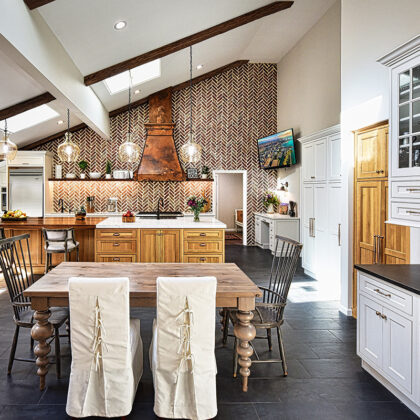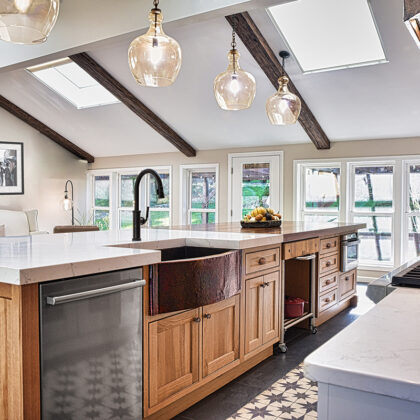 Previous
Spectacular Entertainment
The homeowner wanted to take her rather large "mishmash" kitchen to a whole new level with the end result being a highly functional yet spectacular-looking new space. One of the major challenges of the project was to make the two different levels of the space into one, allowing the utilization of the entire large space.
The perimeter cabinetry around the kitchen is a beaded inset recessed panel door and matching drawer headers, painted in the Heron Plume finish. This includes the back wall desk/drop area, the tall pantry area, the coffee station and the butler's pantry. The spectacular, large island and the additional built-in pantry are beaded inset cabinetry in quartersawn white oak with a natural matte finish and matching door and drawer styles. The combination of the white and natural white oak cabinetry contrast beautifully with the floor, the brick backsplash, the copper products and the faux beams. The result is stunning and the possibilities for spectacular entertainment are endless.
Designed by Connecticut Kitchen & Bath Studio LLC in Avon, CT.
Projects You Might Like
Looking for more inspiration? Browse more projects and homes Showplace has been a part of.