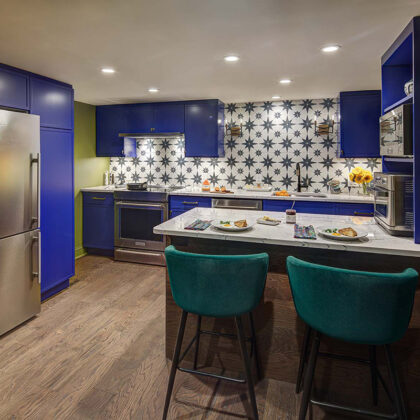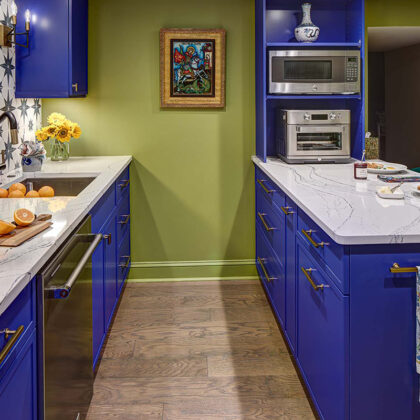 Previous
Bold Color & Strategic Storage
The homeowners downsized from a five bedroom house to a single bedroom in-law suite in a bi-level two-family house shared with their daughter and her family. The kitchen design started with the question: how small can this kitchen be while still providing functionality for a family of two, all combined with a fun, bold style?
The homeowners are committed to sustainability, and already in their everyday habits have made small changes to be more mindful of practices such as composting, using reusable cloths, and more. They wanted the kitchen project to be as sustainable as possible.
After taking a detailed inventory of the homeowners' kitchen use and habits, the compact layout was designed to provide generous counter space, comfortable walking clearances, and abundant storage. The mantra became "If it doesn't fit in this kitchen, we don't need it."
The cabinets are optimized for functionality with plenty of storage from Showplace features like:
Roll-Out Trays
Two-Tier Cutlery Divider Drawer
Waste Basket Base Cabinet
Deep Drawers for Pot and Pan Storage
Project completed by Tracey Stephens Interior Design in Montclair, NJ.
Kitchen
Paint
ColorSelect "Honorable Blue" (SW6811)
Projects You Might Like
Looking for more inspiration? Browse more projects and homes Showplace has been a part of.