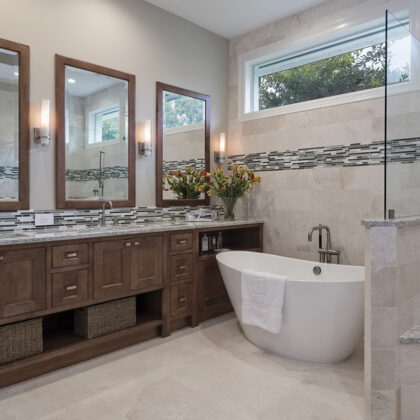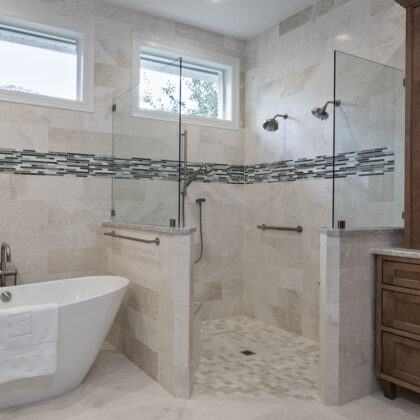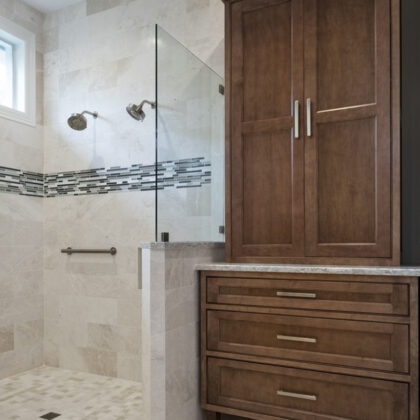 Previous
Elegant Dream Spa
These homeowners had long dreamed about having an expansive master bathroom that felt like their own personal spa. After receiving recommendations following their neighbors' recent remodel, they knew they wanted Showplace cabinets to make that dream a reality.
The heart of the project centered around increasing the amount of natural light in the space; this was accomplished by shortening a wall that separated the enclosed shower from the tub, adding glass to the portion of the wall that was removed. Choosing furniture-style Showplace Cabinetry completed the conversion from an ordinary bathroom to a mind-calming retreat.
The end result: the homeowners are completely in love with their light and airy spa-like atmosphere.
Completed by DreamMaker Bath & Kitchen in Stuart, FL, this beautiful project was a 2019 Showplace Cabinetry National Award Winner – Honorable Mention Transitional Bath Design.
Designed by DreamMaker Bath & Kitchen in Stuart, FL.
Master Bathroom
Projects You Might Like
Looking for more inspiration? Browse more projects and homes Showplace has been a part of.