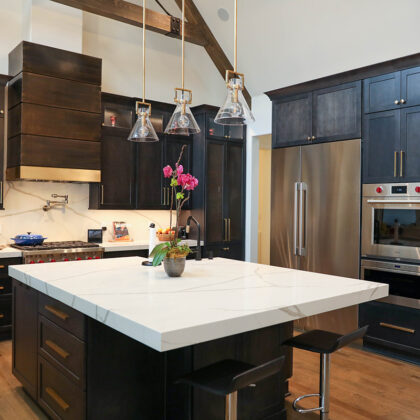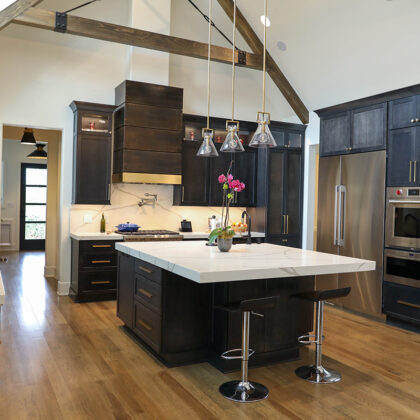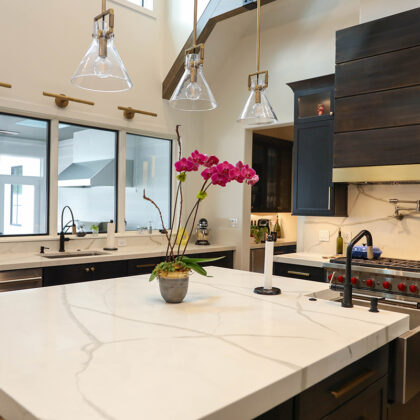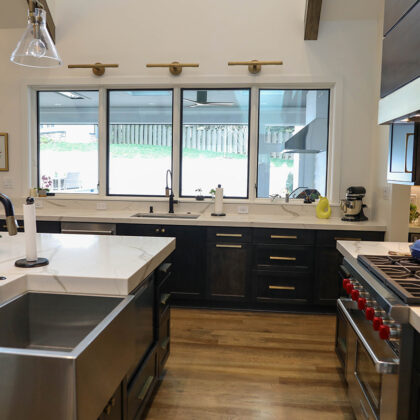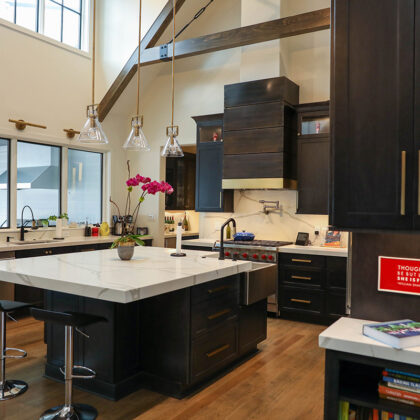 Previous
Forever Home
The homeowners were looking to build their forever home. This home is in a very old and traditional neighborhood, so they needed to marry a more traditional, modern farmhouse exterior with a little more cutting edge transitional interior. The dark tones of the Showplace Midnight stain, and sleekness of the Pendleton door style allowed them to achieve that with a bold honey bronze hardware.
The biggest challenge was making sure that all of the lower cabinetry was put to good use. With limited wall space, and one of the owners is "vertically challenged", the bulk of her dishes and daily use items needed to be under counter. In addition, the island needed to function comfortably as a daily space for dinner. With their busy schedules there are often just two seated for meals, but they do have the option to seat the entire family and still have comfortable conversation across a table-like space.
The final design was born out of a love for cooking and hopes of this being their final home. The island end was large enough for their daughter to have dinner with one or both parents and also spread out to do homework while mom cooks. Many large base cabinets and an amazing prep sink on the island were included to accommodate everyday cooking and storage.
The homeowners absolutely loved how the deeper, dark tones of the Showplace Midnight stain give such a beautiful contrast to their bright room. They loved putting color into the cabinets and accent pieces and letting the walls be a neutral soft white.
Designed by Standard Kitchen & Bath in Knoxville, TN.
Kitchen
Projects You Might Like
Looking for more inspiration? Browse more projects and homes Showplace has been a part of.