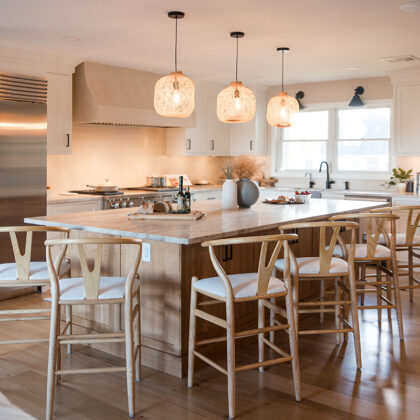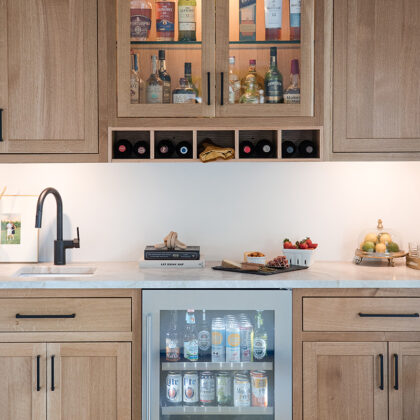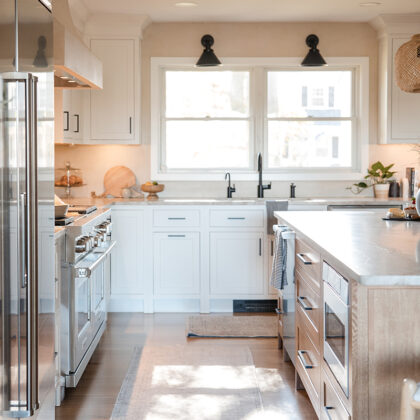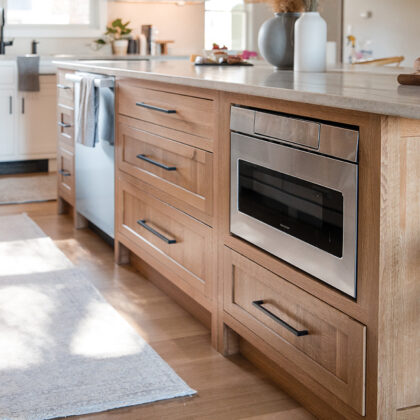 Previous
Transitional Style Kitchen
The homeowner came into this project knowing they wanted to create a seamless design between the kitchen and living space. They wanted "furniture style" living to create a relaxed and inviting atmosphere for their guests and family.
By incorporating kitchen elements throughout their open concept, the transition between function and relaxed is almost unnoticeable. All of the cabinets have extended cabinet end panels to create the look of legs, which the homeowner loved for the simple fact that the cabinetry felt more like furniture than a kitchen space.
Another important design element was having the ability to hide appliances so the homeowner could keep a curated look on the countertops. The design team created bifold doors with glass above to show off decorations that have meaning to the family.
The final piece of this transitional design was the wet bar. The homeowner wanted to have a sympathetic design feel to the kitchen space. By streamlining the quartersawn white oak cabinets with all the same finishes, you can easily navigate between making a cocktail, relaxing on the couch, or grabbing a bite to eat at the island.
Designed by Brown and Glynn Construction of Milltown, NJ.
Projects You Might Like
Looking for more inspiration? Browse more projects and homes Showplace has been a part of.