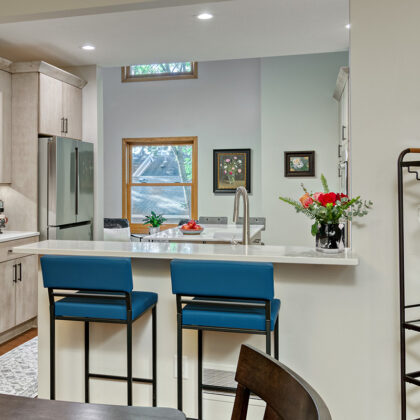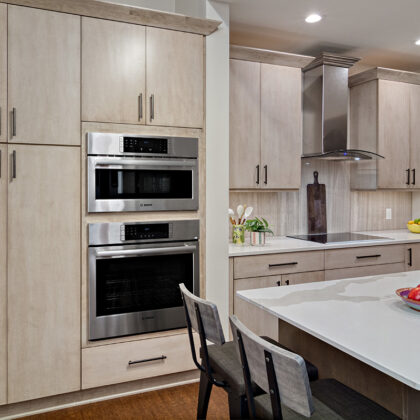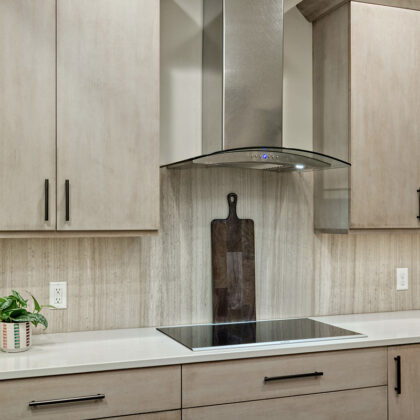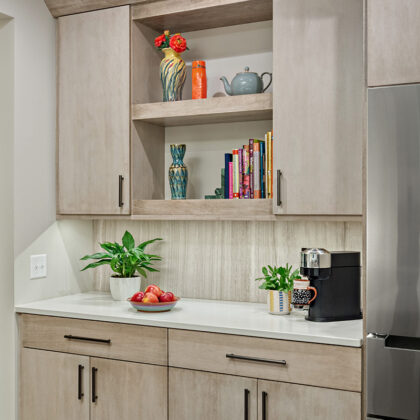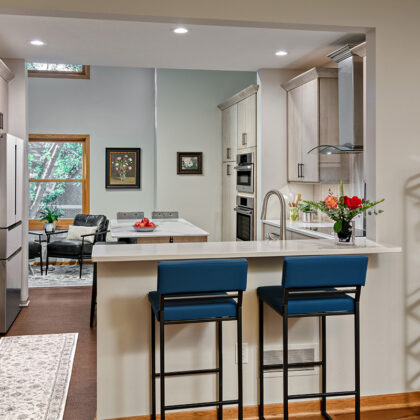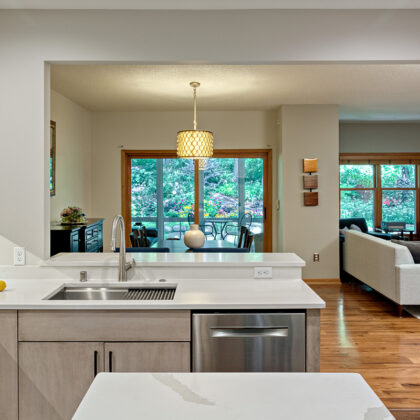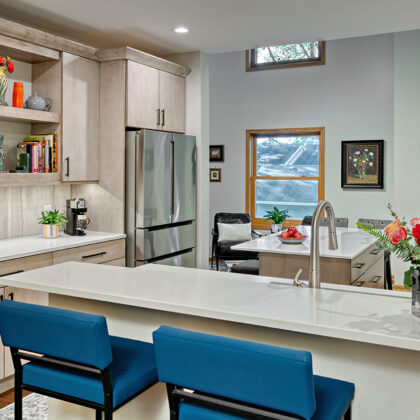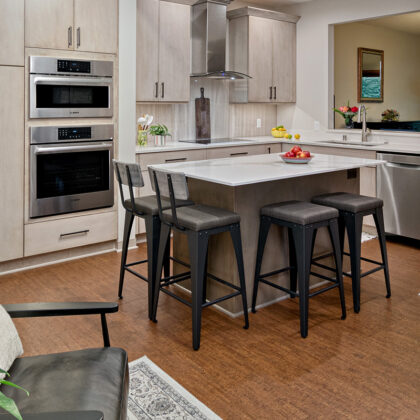 Previous
Townhouse Kitchen Transformation
After living in their townhome for a while, the owners were unhappy with their kitchen and wanted changes to make it work better for them. They thought the room felt dark and there was no visual flow with the rest of the main floor or with the beautiful backyard gardens. They found it difficult to work together in the kitchen, and entertaining felt tight. The couple wanted warmth and character; the existing simple white cabinetry didn't do it for them, but they didn't want a heavy traditional look either.
The kitchen was physically and visually closed off from the dining and living rooms by a wall between them, so a wall was removed. The new plan integrates all the areas of the main level into one large open entertainment space and allows the kitchen to "breathe." Natural light now penetrates from the front as well as the back of the kitchen and affords the entire main level a view of the backyard landscaping. A half wall was retained at the back of the peninsula and the new counter overhung for extra seating when entertaining and to provide a convenient out-of-the-way place for guests to relax without isolating the cooks.
A warm neutral monochromatic color scheme unifies the space, with contrast provided by variation in light and dark values, and accessories provide pops of color. Textures abound in the mix of materials: character-stained wood, sleek steel and glass, large-patterned quartz and vein-cut marble, resilient cork flooring, plush leather chairs and soft rugs.
A timeless mix of old and new comes together in the cabinetry. The new Showplace Montana character stain feels organic and weathered and maple in the Rockport finish was used for the island cabinetry for contrast. The owners' new kitchen has improved their lives beyond what they could have imagined.
Designed by DreamMaker Bath & Kitchen in St. Louis Park, MN.
Projects You Might Like
Looking for more inspiration? Browse more projects and homes Showplace has been a part of.